Laminate
There are many good reasons why laminate flooring is a popular choice in today's homes.
But if it's going to be a possibility for your home, then you need to first understand what laminate is.
Laminate is a manufactured product that simulates the look of hardwood, ceramic tile, natural stone and many other types of flooring.
Now, in the past, laminate floors have been easy to spot, but today's technology allows manufacturers to create realistic visuals and textures for an elegant and quality floor.
We think you'll be amazed – maybe surprised — at how beautifully laminate flooring resembles other premium flooring.
Is it real or laminate?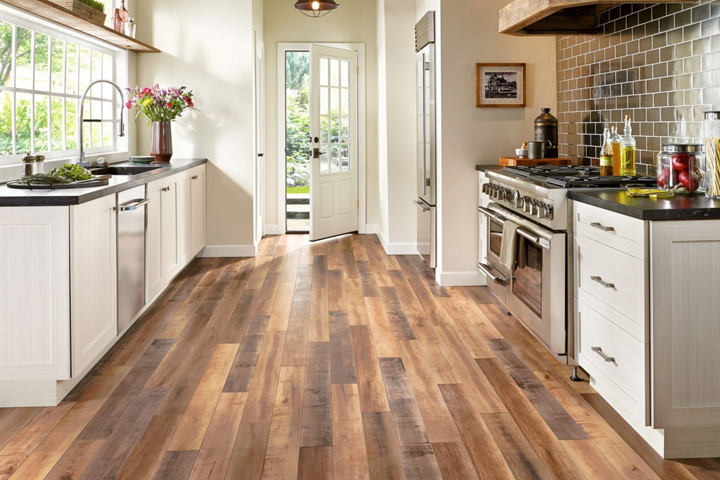 If laminates looked fake the last time you checked, it's time to check again!
Today's laminates are looking better and better, and often need close examination to be identified.
Laminates have truly come a long way. Why?
Because of the growing popularity of laminates, manufacturers are creating an increasing array of traditional, rustic, and exotic wood grain designs.
In fact, presses have improved to the point where the texture imprinted on top of the design looks more real than ever, even with distressed wood or natural stone designs.
Laminate flooring types
Laminate flooring with attached underlay.
These floors come with several different types of tongue and grooved locking systems and an attached underlayment to reduce noise levels. That's good to know.
Glued laminate flooring.
These are the original laminate floors that do require a special formulated glue to be applied to the tongue and grooved areas for each plank.
Once the glue is dried the planks are almost impossible to pull apart. These floors are offered in both planks and squares.
Pre-glued laminate flooring.
No mess, because the glue is already applied to the tongue and grooves which makes these floors quick and easy-to-install.
A thin, plastic underlayment is needed to seal out moisture and prevent the glue from sticking to the substrate.
Glueless laminate flooring.
No mess, glueless installation makes these floors quick and easy-to-install. They come in a variety of ceramic and wood designs and colorations, as well as some manufacturers offer a real, hardwood veneer instead of a printed layer. It looks amazingly hardwood-like. These floors come in both planks and squares. A thin, plastic underlayment is needed to seal out moisture from below. (Remember, moisture is the enemy of your flooring.) In fact, most laminate floors require a plastic underlay sheet (4 mil poly) be installed directly underneath the laminate planks or tiles. This helps the floor float freely over the subfloor. Another option is to add a vapor barrier or noise reduction underlay before installing the laminate flooring.
Moldings are the finishing touch.
Laminate moldings also affect the overall style and give your room a beautiful finished look.
Moldings are important because they cover the space that is allowed for the flooring to expand and move naturally on top of the subfloor, and they help with the transition to an adjacent floor.
Most manufacturers offer coordinating moldings for all styles and colors for any laminate flooring you choose.
However, be aware that moldings for laminates are slightly larger than their wood or ceramic tile counterparts.
Here, to familiarize you with various standard moldings, are some styles and definitions.
The Step Down Stairnose is a coordinating piece providing the proper transition for all the steps in your home.
A Reducer Strip is the transitional piece the installers use to connect the laminate with another type of floor covering such as vinyl, thin ceramic tile, or low-pile carpeting.
An End Molding or Carpet Reducer is used as a transition from laminate floors to different flooring surfaces when the reducer does not allow enough height, such as on high-pile carpet or thick ceramic tile.
T-Molding is commonly used in doorways to join two laminate floors in adjoining rooms. It's also recommended when making transitions from a laminate floor to another floor that is approximately the same height.
Finally, a Quarter Round may be installed wherever the laminate floor meets the wall or baseboard.
We recommend that you work closely with us to become familiar with the moldings and transition pieces.
Ask to see samples if possible, so there are no surprises come installation time.